Dr. Sherry will be speaking on Sleep Apnea and Sleep Disorders through the Plymouth Community Eduation on Tuesday, November 8 at 6pm at the Plymouth High School. Register with Community Eduation at the high school or via the website http://plymouthwi.myrec.com (click for link)

Joseph & Joseph Dental is now offering sleep studies and sleep breathing oral appliances to help our patients with sleep breathing disorders. The oral appliances are a viable treatment option for patients with mild to moderate sleep apnea or for CPAP users who may not be able to tolerate their CPAP anymore. Some conveniences with oral appliance therapy is that there are no hoses, wires, masks, and does not require electricity.
We have become very aware that sleep apnea (interrupted or halt in breathing while sleeping) is increasing in prevalence and affecting the health and well-being of our patients. We offer a complimentary breathing analysis with our pharygometer and rhinometer to our patients. Also, overnight use of our oxygen monitor (watch-type pulse oximeter) to screen for oxygen level drops while you sleep.
CLICK here to see information on Sleep Appliances
Dr. Sherry Joseph earned her Diplomate with the American Board for Dental Sleep Medicine (ABDSM) and is a member of the American Academy of Dental Sleep Medicine (AADSM).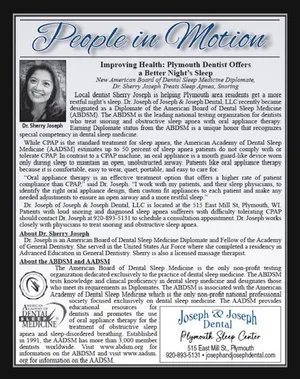 Dr. Sherry works closely with your primary care provider and/or ENT/pulmonologist/sleep physician to ensure you are receiving the best and most appropriate care.

Ask about our services the next time you are in, or call us at 920-893-5131!

Testimonial from a patient using a sleep oral appliance:
I was diagnosed with mild sleep apnea a number of years ago. I attempted to use a cpap machine, however, it seemed cumbersome and it caused more stress so I avoided doing anything about it for years and in that time my ap nea went from mild to moderate. A friend told me about an oral device that has made significant improvement to her sleep. I researched it and made an appointment to be fitted for one. I have been using it for about 1.5 years now and I am sleeping better than I have been in years. I didn't realize how tired I was and how that can affect not just daily life but overall health. Now, with this appliance, I wake up feeling rested and can tell I had a good night's sleep. It is easy to use and when I travel, the case fits into my purse, there is no wires, cords or monitors you need to carry along. I highly recommend this appliance to anyone who has sleep apnea and wants to improve their sleep and overall health.